What Is Digital Marketing?
The internet has become the primary research tool, with buyers and sellers first using major search engines before viewing a house or listing a property.  According to research by eMoov.com, 98% of property buyers conduct their research before attending a viewing.  There is no doubt, the internet has transformed the way in which we buy goods and services and will continue to do so especially with the new generation of tech savvy buyers.

The traditional marketing methods of estate agents using leaflets, direct mail and newspaper adverts have been replaced or supplemented with online search boards (Rightmove, Zoopla etc.), websites and social media.  But of these marketing methods, how many visitors have been successfully converted into leads and customers?  Some estate agents think the presence of property adverts on websites such as Rightmove means they are online, however this is simply not enough.
To remain competitive in an age where technology is constantly changing and evolving means that estate agents need to 'up their game' in order to be successful.    Let us take the example of Simon & Miller estate agents, an estate agency chain with 10 branches across the county of Kent.  In collaboration with SaucyHorse.com, they were able to add £400k to their annual turnover by revamping their image and changing their digital marketing methods, allowing them to remain competitive in an already busy industry.  A clear example of an effective marketing strategy meeting the demands and attention to today's consumers.
Well What Can We Do?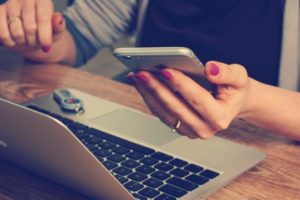 With the increase in use of mobile technologies such as mobile phones and tablets, more and more property buyers and investors are relying on these devices on the go to stay up to date on the market.
This involves searching for directions and maps to view a house, calling or emailing an agent, viewing videos on houses and many other purchase related tasks.
So unless your website is optimized to seamlessly display content across a range of devices, that is millions of potential leads you could be missing out on.
The first step is estate agents should be looking to adopt multiplatform apps allowing their websites to be accessible from any mobile device.

Increase Your Visibility / Local SEO
 My Business
With over 40,000 search queries per second, Google is among one of the top search engines used worldwide.  Google My Business is a tool available for business that increases visibility on Google Maps, Google search results and Google Plus.  Sign your business by visiting www.google.co.uk/business. You will need to input all of your business information including your full business address. Google will also give you the opportunity to verify your business address, which you need to do.
Business Addresses
Have your business address available on every page of your website alternatively ensure it's in the footer of each page thus making it more relevant when returning searches.  If a business has multiple branches it is worth creating a separate page for each address with details such as opening hours, address and such specific to that branch.  This enables Google to see where your business is active and improve visibility for local searches in the target areas.
Use Location Keywords / SEO
By using location specific keywords across the website such as areas you serve, where your houses or branches are based, you are optimising your pages to appear more frequently in search results.  Alternatively, by registering your address on high quality property search directories such as Rightmove or Zoopla, you are further reinforcing your address to Google and improving your visibility in local search results.
Links, Links, Links!
Links (hyperlinks) are an important part of SEO.  Google sees these links to your website as a 'vote' of relevancy and quality and improves your visibility in search returns.  Having local organisations link back to your website will further enhance your presence in local search returns these might include for example supporting a local charity, a housing association you may be a part of or links from local government websites.
Alternatively, if you are a part of accredited membership bodies or property sector authorities, your details should be listed on their website.  By listing your website on theirs and vice versa increases the perceived quality of the business.
Interactive Interaction / Personal Identity / Brand Identity
Social Media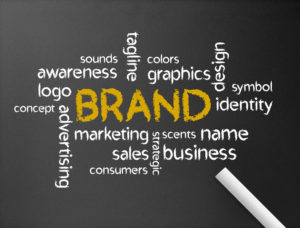 Social media in growing rapidly, with Generation Y preferring messaging via Facebook and Twitter rather than email yearning for that direct interaction with the brand, and while this demographic may not represent the majority of buyers today, they are certainly the homeowners of tomorrow.
It has taken:
38 years for radio to have 50 million listeners
13 years for television to reach 50 million viewers
four years for the internet to have 50 million users
Yet in just nine months, Facebook gained 100 million subscribers!
(The Estate Agent, 2010)
There are two ways in which you can use social media campaigns:
On-Going Daily Engagement
Familiarise and engage your brand with a wider audience of individuals and inform existing or potential clients of the services you provide whilst enhancing brand image and profile as an industry expert. This can be done by encouraging visitors to the website, increase followers and post engagements.
Targeted Campaign Marketing
use paid campaigns to funnel in prospects (such as home owners, landlords, buyers or tenants) which are directing to dedicated landing pages in order to convert visitors into an enquiry (such as to book a valuation).
One of the main advantages of using social media is the interactive approach.  Businesses across all industries are using Facebook, Twitter, LinkedIn and other platforms to communicate to customers and other industry professionals directly.  As a business, customers can leave reviews and comments on their experience when using your business which in turn can be used as a means of attracting more customers due to looking credible.  It can also be used to tackle negative and disgruntled customers who, if handled well, can become strong supporters for your business.  However, simply by using it as a listing board can become dull and detract followers, by encouraging interaction, giving followers something in return for example, question and answer sessions, advice columns etc. you are promoting your brand as accessible which could lead to future business.
Blogging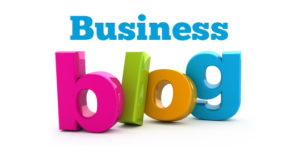 Blogging is a fantastic way to engage with industry professionals and customers by demonstrating expertise and knowledge through the discussion of relevant and interesting topics that add value, which in turn can build loyalty, referrals and business.
Your business blog is essentially the personal brand voice of the company; through it you are able to discuss your view on current issues in the industry, talk about new developments or activities in the local area or discuss new building materials that have been developed in the housing industry.  You can even create a Pintrest board alongside the business blog, advising of new interior design trends and landscaping ideas to give a more personal touch.
Video marketing
With YouTube considered the second largest search engine after Goggle it's no wonder estate agents are using the platform to give their customers more than just a floor plan. Providing visual aids can help you agency stand out from the crowd, especially now that YouTube is easily accessible from multiple mobile devices.
Creating buyer guides
Although the majority of your target audience will be from the local area and not need this information, it's always a good idea to assume that they don't know the area.  This is of particular benefit to people who may be looking to relocate to the area and need information on local statistics, activities etc.  By creating guides, not only are you preparing yourself to answer questions specific to the area, you are also answering questions that may be asked on search engines, ensuring you are higher up on the results list.  In addition, by compiling information in an easy to reach place such as local schools, public transport links and timetables, crime rates, local activities and events you are giving customers a clear idea of what to expect from the area.  Furthermore, ensure the guides are downloadable with links referring back to your website or when distributing guides via email, ensure the link is attached to send customers to the landing page.
I've done all this, now what?
Converting enquiries into leads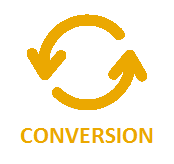 Running an estate agency is a customer focused business; prospective buyers and sellers come through the door or ring through to the agents and receive an immediate response.  Similarly, with digital marketing it is essential all online questions and queries are answered as soon as possible while the leads are still hot.  According to Callwell, only 64% of email queries sent to 85 estate agents were answered in the first 48 hours.  In order to be successful the same importance and urgency given to telephone calls should be given to email enquiries.  Only by converting online enquiries are you able to take advantage and make a return on the marketing investment.
It is crucial estate agents monitor and review their online activities, effective digital marketing is essential in keeping a business successful.  Consumers want to know how you can add value, whether this is through blog posts, website, newsletters etc. you are showing how your business is the expert in the area in which you operate.
And most important of all remember… Consistency is key!